Dominant 7 Arpeggio Soloing Handbook



This interactive E-book is 100% devoted to helping you apply Dominant 7 Arpeggios to your soloing!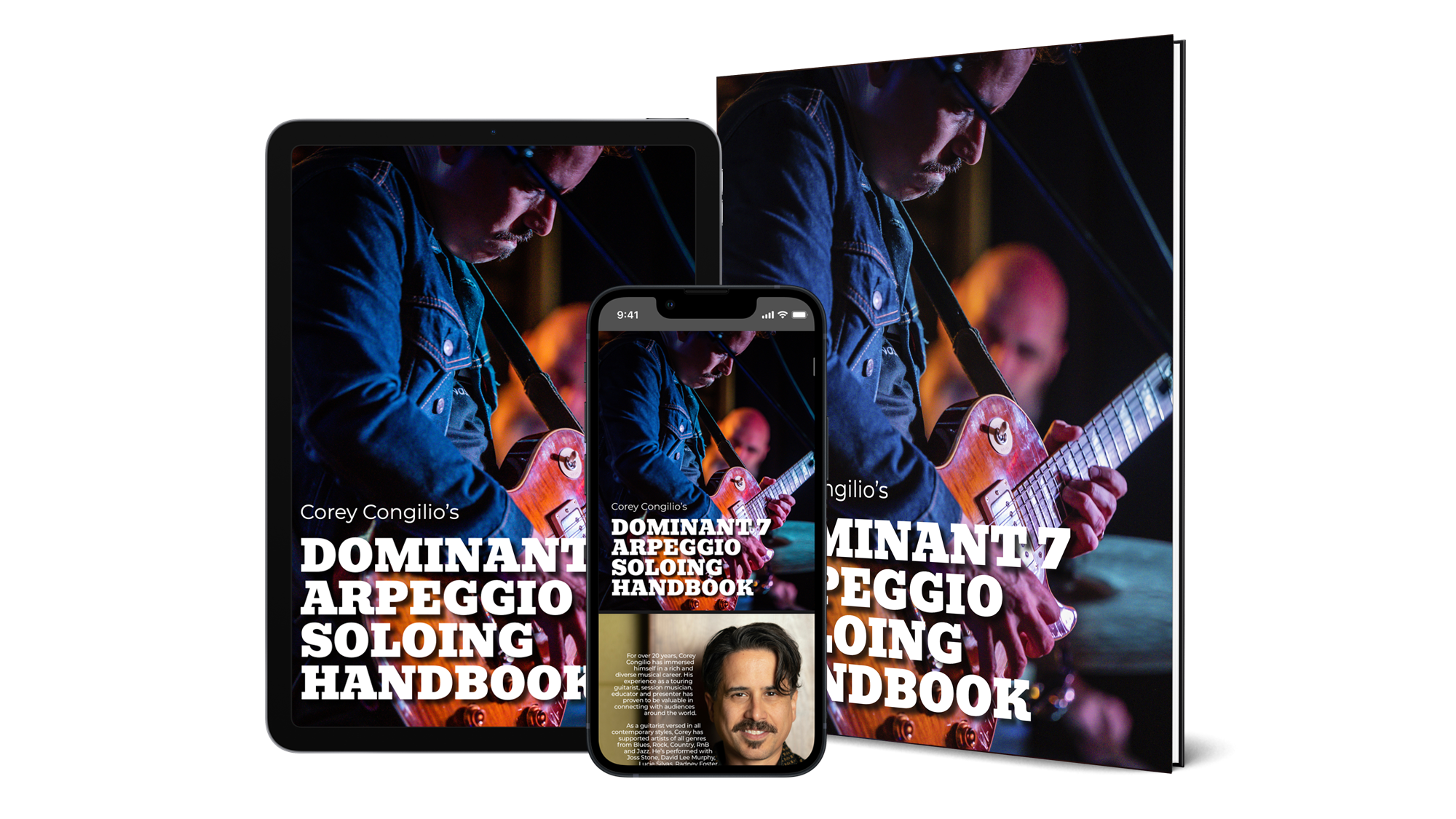 The question I get asked most often is "how do I use and apply the Dominant 7 arpeggios to my solos?"

There's a good chance you already know a handful of scales like major and minor as well as your pentatonics. However, they just aren't giving you the more sophisticated sounds you want to hear in your blues and rock solos. Allow me to introduce to you the Dominant 7 Arpeggio!


Using arpeggios in your solos really levels you up as a player. Arpeggios are the single most important tool you can use to start playing through the changes and confidently crafting solos like never before. 


Once you learn a few solos that contain these arpeggios, you'll start to hear them everywhere…whether it's the more modern side of blues from players like Robben Ford, Gary Moore and Joe Bonamassa or the jazzier blues players like George Benson, and Wes Montgomery. 


In the Dominant 7 Arpeggio Soloing handbook, you will learn three in depth Blues solos that focus on using arpeggios shapes all over the neck. 


Each solo will be 24 bars in length and cover a variety of blues styles. The Dominant 7 Arpeggio will be at the heart of all of these solos but, I'll be throwing in plenty of other scales, licks and techniques that will make for memorable lessons. 


I'll give detailed written instruction of each and every measure to drive every nuance of the solo home. Since the ebook is interactive, you'll be able to watch me play the solos at two different tempos to really help you understand and play along. 


I'll also include a Pro Tip section that will help you get even more out of your arpeggios by combining them with scales and other soloing approaches. 


The beauty of this ebook is that you can learn in a number of ways. If you're a reader, you'll easily submerge yourself into the written instruction. If you're more of a visual learner, you can watch the accompanying videos to really wrap your head around the lessons. 


If you're new to the Dominant 7 Arpeggio, you can start from scratch. I give you plenty of review lessons to get you up to speed too! 


I developed this book after hearing from hundreds of students asking for a follow up to my Arpeggio Handbook for Blues Guitar. The Dom 7 Arpeggio Soloing Handbook is the perfect companion to elevate your playing to the places you've wanted to take it.

Dominant 7 Arpeggio Soloing Handbook Includes:

✅ Over 30 Pages of Step-by-Step Instruction
✅ Interactive Videos to Help You Master the Concepts
✅ Downloadable Jam Tracks
✅ Guitar Pro Files
✅ Take it and practice anywhere by downloading the book, logging in with any browser or using the Teachable app!

Video Lessons to Support Your Learning!